Are you looking for a Best Gumroad alternative to create an online store?
Gumroad is a popular eCommerce platform that lets you sell digital products, online courses, and membership-only content. However, their service isn't flexible, and they recently increased their fees by quite a lot.
In this article, we'll share the best Gumroad alternatives and competitors that you can use to sell digital products and make money online without the high costs.
Why Do You Need the Best Gumroad Alternatives?
Gumroad is a self-hosted eCommerce platform where you can upload your products and start selling. You don't need a hosting service, a payment service, or an online store to sell digital goods.
While it is beginner-friendly, there are several drawbacks to using Gumroad.
For starters, the platform now charges a flat 10% fee for every sale. These charges are in addition to the transaction fee.
Previously, the percentage would decrease as your revenue grew. However, the new pricing change takes a significant amount of your income.
For creators, this means aside from your local government taxes, now you're going to be paying a Gumroad tax which simply isn't acceptable.
Besides that, Gumroad doesn't offer much flexibility compared to other eCommerce solutions.
For instance, you don't get features for cross-selling or upselling products to boost sales. If you're selling online courses, then Gumroad is at a disadvantage as it doesn't include a learning management system (LMS).
Other alternatives to Gumroad provide more features for personalizing your online store and providing a better customer experience.
That said, let's look at some of the best Gumroad alternatives.
1. MemberPress
MemberPress is the best WordPress membership plugin that lets you sell subscription-based digital products and online courses.
It's a great alternative to Gumroad, as the plugin is user-friendly. You can easily create a membership site, set up multiple subscription levels, and control who can access content and products.
MemberPress also offers a built-in drag-and-drop course builder functionality to create and sell online courses. Besides that, it includes a virtual classroom feature, which produces an immersive learning experience.
Another feature offered by MemberPress that you won't find in Gumroad is automatic drip content. The plugin allows you to release paid content to subscribers over time or once they've cleared a particular module.
MemberPress also integrates with other popular WordPress plugins. For instance, you can track your site's performance by combining it with MonsterInsights or create your affiliate marketing program by connecting it with AffiliateWP.
Pricing: MemberPress pricing starts from $179.50 per year with their Basic plan. If you want more features like quizzes and premium integrations, then you can go for the Pro plan.
Easy Digital Downloads (EDD) is another Gumroad alternative you can use for selling digital products like ebooks, plugins, software, PDF files, and more.
The plugin is best for bloggers, developers, marketers, artists, designers, and other creators to sell products online. It offers powerful features and allows you to create beautiful digital goods stores.
You can start with EDD for free with SiteGround EDD hosting or just try the free version from their website.
We use Easy Digital Downloads ourselves to sell our MonsterInsights and WPForms software, which shows just how powerful the plugin is. Plus, there are managed hosting services that come with EDD pre-installed.
Other than that, Easy Digital Downloads offers multiple extensions. You can easily integrate different payment services, email marketing tools, messaging services, and more.
The best part about using EDD is that it has a software licensing feature. It allows you to sell SaaS products, apps, and other tools with proper digital rights.
Pricing: Easy Digital Downloads premium pricing plans start from $99.50 per year. However, you can also use a free version of EDD to get started and start selling online.
WP Simple Pay is the best Stripe payment plugin for WordPress, and you can use it to accept online payments without setting up a shopping cart.
It's a great alternative to Gumroad, as you can sell digital products by simply adding a payment form using the plugin. The best part, WP Simple Pay offers a free version. You can accept one-time or recurring payments directly from your WordPress site.
With WP Simple Pay, you get 13 payment methods in 135+ currencies spread across 45+ countries. Some popular methods include credit card payments, ACH debit payments, Google Pay and Apple Pay services, and more.
You can also offer to buy now, pay later payment plans using WP Simple Pay. The plugin supports Klarna and Afterpay/Clearpay, which allow customers to pay in installments. This is great if you're selling high-value or luxury products.
Pricing: WP Simple Pay premium plan starts from $49.50 per year with the Personal plan. If you want to add recurring payments or buy now, pay later options, then you'll need the Pro license. To get started, you can also use a WP Simple Pay Lite version for free.
4. WooCommerce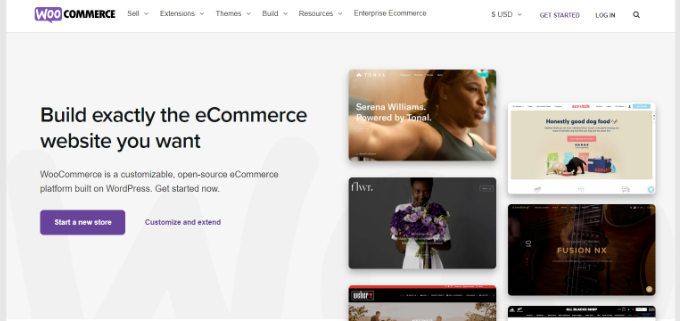 WooCommerce is the most popular eCommerce plugin for WordPress. It is an open-source platform that you can use to create any kind of digital store.
For instance, it lets you sell physical products online, set up membership plans, offer digital downloads and affiliate products, create dropshipping stores, and more.
The best part is that there are many themes designed for WooCommerce. This allows you to fully customize and control the design of your eCommerce store.
Another advantage of using WooCommerce over Gumroad is that you can use built-in options or third-party plugins to upsell and cross-sell products, recover cart abandonments, offer discount codes, free shipping, and more by using powerful tools like FunnelKit.
Plus, it easily integrates with different payment services and third-party plugins.
WooCommerce also offers premium extensions. You can easily optimize your store for SEO and boost search engine rankings to attract more visitors.
To create a WooCommerce store, you'll need WordPress hosting and a domain name. However, many hosting companies like Bluehost come with WooCommerce pre-installed.
Pricing: WooCommerce is a free eCommerce platform you can use as a Gumroad alternative. While the plugin is free, you'll still need to pay for website hosting. Please see our guide on how much an eCommerce store costs for more details.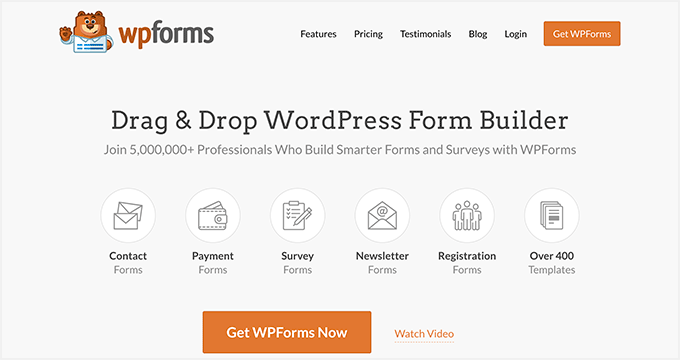 WPForms is the best drag & drop online form builder, and it can be an excellent alternative to Gumroad if you want a simple way to accept credit card payments.
It lets you easily build payment forms, so you can accept credit card payments using Stripe, PayPal, Authorize.net, and Square payment gateway.
Aside from that, WPForms also integrates with hundreds of email marketing services, so you can automatically add your customers to your marketing automation drip campaigns.
You can use WPForms to accept both one-time as well as recurring payments, and the best part is that it doesn't charge any additional transactional fees.
Pricing: While WPForms has a free version, you will need the WPForms Pro plan which costs $199.50 to accept payments.
6. LearnDash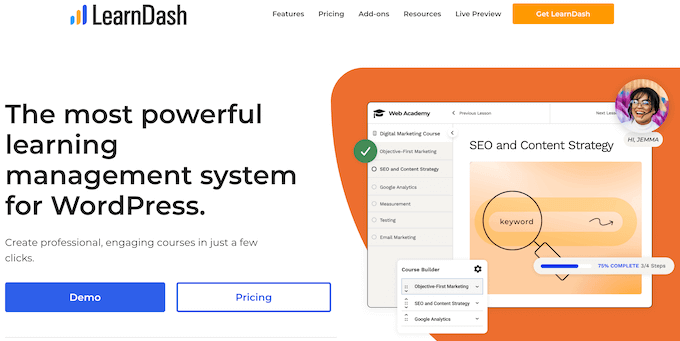 LearnDash is one of the best LMS plugins for WordPress and allows you to run online courses. The plugin offers powerful features to manage your courses, add quizzes, run surveys, and easily accept online payments.
Since Gumroad doesn't offer a learning management system, LearnDash is an excellent alternative for anyone looking to sell online courses.
With LearnDash, you get a drag-and-drop course builder and multimedia support to run webinars, videos, and tutorials. The plugin also lets you add badges and rewards using different gamification tools. This helps make your lessons engaging.
Pricing: LearnDash premium plans start from $199 per year for 1 website.
7. ConvertKit
ConvertKit is a popular email marketing and eCommerce platform built specifically for creators. They allow you to easily sell digital products, run paid newsletters, sell recurring subscriptions, and even set up tip jars.
The best part is that you get an integrated eCommerce and marketing platform, so when someone becomes a customer, you can send them automated email sequences, targeted marketing, and other subscriber-engaging content.
ConvertKit is a hosted platform so it comes with a landing page builder and custom form templates, and it allows you to get unlimited traffic.
Pricing: ConvertKit is free to use for up to 300 subscribers, but your pricing will increase based on the number of subscribers you have. To access the CreatorPro tools, you will need to upgrade to the $25 per month plan.
8. Teachable
Teachable is another popular course-building platform that lets you create and sell online courses. You can use it as an alternative to Gumroad to market and promote your online courses.
It is similar to LearnDash and provides a complete solution for creating courses. What makes Teachable different is that it is a hosted platform, so you don't have to worry about managing any additional software or installing updates.
Teachable is beginner friendly to use and offers a drag-and-drop course builder. It also takes care of online payments and offers multiple payment options. Other features provided by the service include integration with third-party marketing and analytics tools.
Pricing: You can get started on Teachable for free, but it will charge a $1 to 10% transaction fee. There are also premium pricing plans starting from $29 per month.
9. Thinkific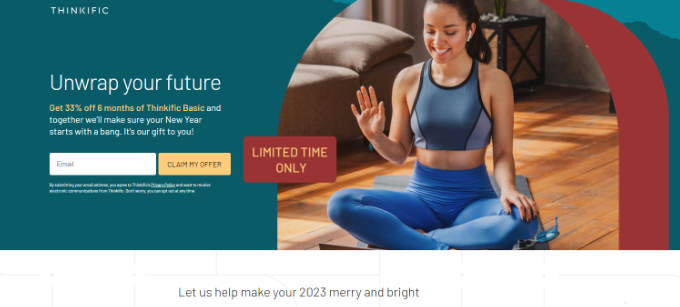 Thinkific is similar to Teachable and also a self-hosted platform to sell online courses. It is easy to use and is a fitting Gumroad alternative to creating courses.
It offers a drag-and-drop course builder that is very easy to use. Plus, you get different themes and templates to get started quickly. Thinkific also allows you to create subscription-based programs, landing pages, and a membership community.
Besides that, it also easily integrates with 40+ different tools and platforms like MailChimp, Shopify, Google Analytics, and Salesforce.
Pricing: Thinkific offers a 6-month premium plan for $196.
10. Payhip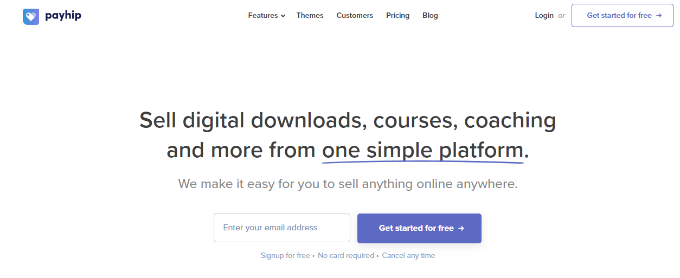 Payhip is another Gumroad alternative that you can use as an eCommerce platform. It lets you sell digital downloads, online courses, memberships, coaching, and physical products.
Besides that, it offers a lot of customization, which isn't available in Gumroad. For instance, you can use the store builder to create a beautiful and professional online business site within minutes.
If your customers are from Europe or the United Kingdom, then the platform will take full responsibility for complying with the value-added tax (VAT) laws. It will automatically detect their location and apply the correct sales tax or VAT amount to their transaction.
Other features offered by Payhip include different marketing tools to boost conversion rates. For example, it lets you add coupons, cross-sell or upsell products, order bumps, adds referrals and affiliates, and show customer reviews to add social proof.
Pricing: Payhip offers a free plan that you can use to get started. However, Stripe and PayPal will charge a 5% transaction fee in the free plan. There are also premium plans starting from $29 per month.
11. Sellfy
Sellfy is the next Gumroad alternative on our list, and it helps you create a storefront for selling digital and physical products. It lets you promote your products anywhere online. Simply embed the Sellfy checkout process on your own website and market your digital goods.
You can also launch a print-on-demand merchandise store using Sellfy. Simply design, create, and sell using different storefront themes. Other than that, you can use it to sell digital downloads and subscriptions.
What makes Sellfy different from Gumroad is that it includes built-in marketing features like upselling, email marketing, and discount codes. Plus, it offers more customization features compared to Gumroad.
Pricing: Sellfy offers premium pricing plans starting from $22 per month (billed annually), and you get a 14-day free trial.
12. BigCommerce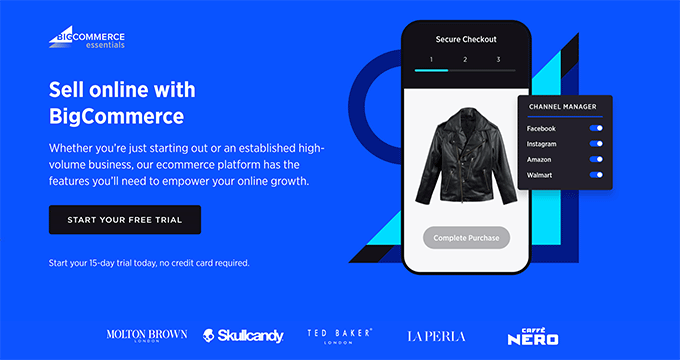 BigCommerce is a popular eCommerce platform, and you can use it as a Gumroad alternative.
It is a fully hosted eCommerce service that easily integrates with WordPress. You can use it to sell all kinds of digital and physical products.
The service automatically creates different pages for your store, including a shopping cart, sign-in page, account area, sales page, and more.
What makes BigCommerce different is that it lets you sell products across various channels like Amazon and social media platforms like Instagram. Plus, the eCommerce solution doesn't charge any transaction fees and lets you choose from multiple payment gateways.
Pricing: BigCommerce pricing plans start from $29.99 per month, and you get a 15-day free trial.
13. Shopify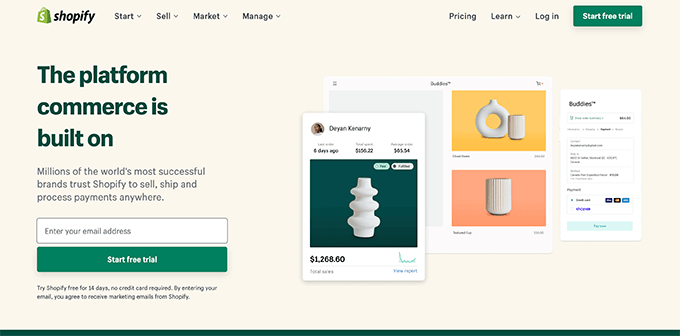 Shopify is the last Gumroad alternative on our list. It is an all-in-one eCommerce solution that you can use to create an online store. It offers more customization options and third-party integrations compared to Gumroad.
With Shopify, you don't have to worry about web hosting, security, backups, updates, and caching. It does this for you, so you can focus on uploading products to the site and promoting them.
Shopify offers pre-built themes that you can use to set up a store. Plus, it makes it easy to manage inventory and accept online payments from a single platform. You can even use Shopify with WordPress to sell products online.
Pricing: Shopify pricing starts from $1 per month with the Basic plan. However, if you want low transaction costs and advanced features, then there is an Advanced plan costing you $299 per month.
Which Gumroad Alternative Should You Use?
After comparing different eCommerce solutions, we believe MemberPress is the best Gumroad alternative. It is a paid WordPress plugin that helps create subscriptions, sell digital products to premium members, and set up online courses without any extra fees.
If you're looking for a free alternative to Gumroad, then we highly recommend Easy Digital Downloads. You can use its free version to get started and start selling digital products like ebooks, PDFs, spreadsheets, videos, digital art, apps, plugins, and more.
If you're looking for a simple solution that lets you accept online payments without the complexity of creating a shopping cart, then WP Simple Pay is your best option.
On the other hand, if you're looking to create an online store from scratch and have full control over it, then WooCommerce is the best option. You get more customization options, online store management features, and integrations compared to Gumroad.
We hope this article helped you find the best Gumroad alternative. You may also want to read our guide on how much it costs to build a WordPress website and must have WordPress plugins for business sites.