Are you trying to decide between WordPress vs Weebly to build your site?
WordPress is a popular choice and powers 43% of all websites on the internet, but Weebly is another solution that allows you to build your website, blogs, and eCommerce stores.
In this article, we will compare WordPress vs Weebly by listing the pros and cons of each, so you can decide which one is better for you.
Note: This article compares Weebly with self-hosted WordPress.org sites, not WordPress.com blogs. See our guide on what's the difference between WordPress.com vs WordPress.org.
Hosted Platform vs Self-Hosted
Weebly is a completely hosted service. Your website resides on their servers, and you have to abide by their terms of service.
Should you decide to switch platforms, the migration process is complicated. Their admin area has all the tools you can use to build, edit, and manage your Weebly site.
On the other hand, WordPress is free software that you can install on your own web hosting account.
This means that you own 100% of all your content, and WordPress makes it very easy to switch to a different platform should you choose to do so.
You can see our guide on how to start a WordPress blog (step by step).
Winner: WordPress
Weebly vs WordPress: Features and Plugins
Weebly comes with a good selection of tools built-in with their platform. You can use them to add an online store, blog, portfolio, business or personal website, or event page.
However, if you need a feature that is not available on Weebly, then you are in trouble because you can't hire a designer or developer to add it for you.
Weebly offers different free and paid applications, but the selection is limited and not as extensive as WordPress.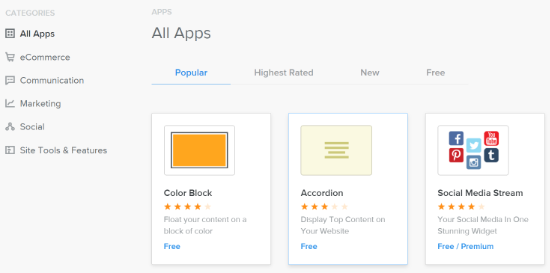 On the other hand, WordPress has all the features you can dream of like online stores, contact forms, galleries, portfolios, SEO, and more. Most of these features don't come pre-installed, but you can add them using plugins.
There are over 59,000 free plugins available in the official WordPress plugin directory. Not to mention, there are countless other premium plugins available from third-party websites.
If you can think of a feature, then there is a good chance that a plugin already exists for that. For example, if you need to create a contact form without editing code, then you can use WPForms.
Also, if you're looking to optimize your site for search engines, create sitemaps, and fix broken links, then plugins like All in One SEO (AIOSEO) are extremely useful.
Winner: WordPress
WordPress vs Weebly: Design and Layout Choices
Weebly excels at design, and the most desired feature of Weebly is its drag-and-drop page builder.
They have numerous themes that you can customize using their drag-and-drop tools. It is very easy to use and extremely beginner-friendly.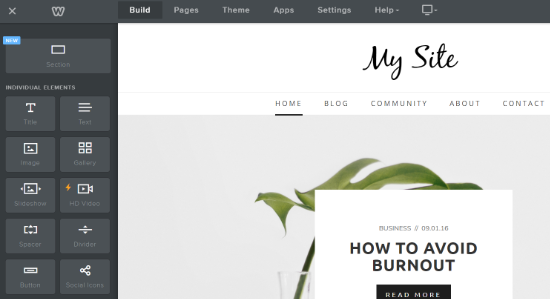 WordPress does not come with a built-in drag-and-drop page builder. You'll need to use a third-party drag-and-drop WordPress page builder like SeedProd to create landing pages, coming soon pages, and more.
However, WordPress comes with a built-in theme customizer and a full site editor that lets you make changes to your site's design in real time.
Depending on the theme you're using, you can change the background colors, edit your menus, widgets, and homepage settings, add custom CSS, and much more.
For more details, you can go through our detailed guide on how to use WordPress theme customizer.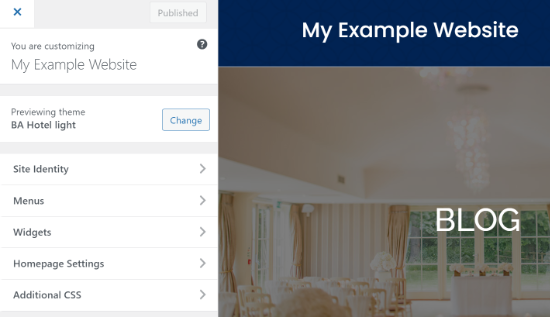 There are also thousands of pre-made templates that offer drag-drop functionality.
Many of them are available for free in the official WordPress.org themes directory. Other themes can be purchased from theme shops like StudioPress, Themify, and ThemeLab.
WordPress also has drag-and-drop themes created by Themify which makes it super easy to create your own layouts.
Winner: Weebly
WordPress vs Weebly: Pricing
Weebly offers 3 premium pricing plans starting from $5 per month and going all the way up to $25 per month. You get free SSL certificates, a custom domain, and 500MG storage. It also offers $100 Google Ads credit, a shopping cart, online payments through Square and third-party providers, and more.
There is also a free Weebly plan that comes with 500MB of storage and free SSL security. However, you will have Weebly branding in the domain name.
On the other hand, WordPress is a free and open-source platform. All you need is a web hosting service and a domain name to get started. However, the total cost of creating a WordPress website depends on your needs.
For instance, you can get domain hosting for as low as $2.75 per month along with a free domain and SSL certificate. Plus, there are many free WordPress themes and plugins to use, bringing the overall cost to around $10 per year. However, if you require more features and use premium plugins, then it could you over $500 per year.
Winner: WordPress
Weebly vs WordPress: eCommerce and Business
Weebly allows you to open your own online store. However, their features are very basic. It isn't much you can do to customize your store.
Weebly charges a 3% transaction fee on top of the fee that you will be charged by payment processors such as Stripe and PayPal. This means that you are paying double in transaction fees.
However, you can upgrade to their Business plan for $25 per month to remove the additional transaction fee.
WordPress has several robust eCommerce plugins that allow you to create your own online stores like WooCommerce, Easy Digital Downloads, iThemes Exchange, WP eCommerce, and several others.
WooCommerce is one of the most popular eCommerce platforms for WordPress. It powers more than 40% of all online stores. The best thing about a WooCommerce store is that it's free to use, beginner-friendly, and highly flexible.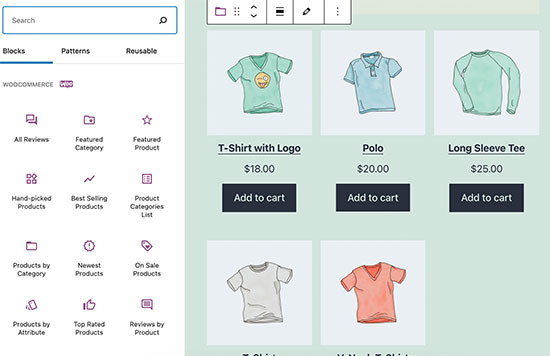 Most of the WordPress eCommerce platforms also come with dozens of pre-made themes. You can add coupons, customize receipts, and basically everything you want to do on your online store.
Also, there are no additional transaction fees. All you pay is the payment processor fees which you will have to pay with any platform.
Winner: WordPress
WordPress vs Weebly: Data Portability
When you host your own website on an open-source platform like WordPress, you can easily export your data into many formats. You can export your WordPress site as an XML file, database export, and download your files and content.
You can easily migrate your WordPress site to any other platform that you like. This freedom gives you full control of your website, and this control brings peace of mind to many site owners.
On the other hand, Weebly allows you to download your site as a zip file, but this will only contain your HTML pages and images.
If you had a blog, then it would not be exported. If you had slideshows or other features, then they would not work on the exported site. Basically, it is very difficult to move a site away from Weebly.
Luckily, we decided to solve this problem and create a free Weebly to WordPress Importer. For full instructions, see our complete guide on how to move from Weebly to WordPress.
Winner: WordPress
WordPress vs. Weebly – Which is Better?
Weebly is a beautiful service more suitable for small websites. It is not an ideal solution to create a blog or run an online store. The shiny design-builder may look attractive, but not everything that shines is gold.
WordPress offers more tools, freedom, and flexibility. All of these things make it possible for you to build a website the way you want it.
We hope this article helped you compare WordPress vs. Weebly and pick a platform for your next website. You may also want to check out our comparison of Squarespace vs WordPress and how to choose the best blogging platform.