Are you searching for the latest web design industry statistics and trends?
With over 1 billion websites on the internet, it's essential that your site is well designed and provides a great user experience for your visitors.
This article will share the most up-to-date web design industry statistics. With these insights and trends, you can design a website that drives results for your business.
Big List of Web Design Industry Statistics and Trends
We've divided this list of web design statistics into specific categories to make it easier to navigate. You can jump to the section you're most interested in using the links below.
General Web Design Statistics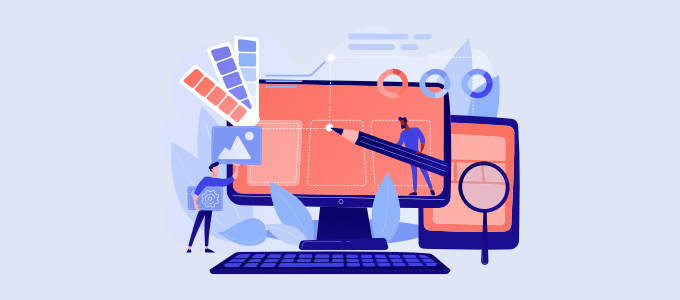 The importance of web design is clear from these statistics. How your website looks can have a huge impact on your online presence and how people view your business.
Since 75% of people form their opinion of a website based on its design and it only takes them 0.05 seconds to decide whether they like it or not, it's important your site makes a good first impression.
Luckily, with WordPress, it's easy to create a beautiful website, even if you don't have any design experience.
With WordPress.org, the most popular website builder platform, you get access to thousands of free and premium WordPress themes. Themes instantly customize the appearance of your site including the layout, color, typography, and other design elements.
Plus, you can also use drag-and-drop page builders to easily create custom designs or even design a custom theme from scratch.
It makes sense why WordPress is used by 43.2% of all websites on the internet.
To get started with WordPress, see our detailed guide on how to make a WordPress site.
Mobile & Responsive Web Design Statistics
Considering that mobile devices account for about half of the web traffic worldwide, it's essential that your website design is optimized for mobile users.
To easily design a responsive website, you can use a WordPress theme to ensure that it looks equally great on mobile phones, tablets, and desktops. Check out our recommendations for the best responsive WordPress themes.
Aside from how your mobile website looks, you also need to consider how fast it loads. Increasing mobile site loading speed by just 1/10th of a second result in higher conversion rates.
See our guide on how to speed up WordPress performance to enhance the user experience, boost conversions, and improve SEO.
On-Page Web Design Statistics
The statistics above will give you an idea of what design elements your website visitors appreciate the most, as well as any elements you could do without, such as Google Fonts.
High-quality images, colors, and videos are the top visual elements consumers appreciate in website design. But, 70% of small business websites lack a call-to-action on the homepage.
While your design might impress visitors, if you don't have a call-to-action, you won't be able to convert those visitors into leads or customers.
You can redesign your website for higher conversions by following this tutorial on how to add call-to-action buttons in WordPress.
UI/UX Web Design Statistics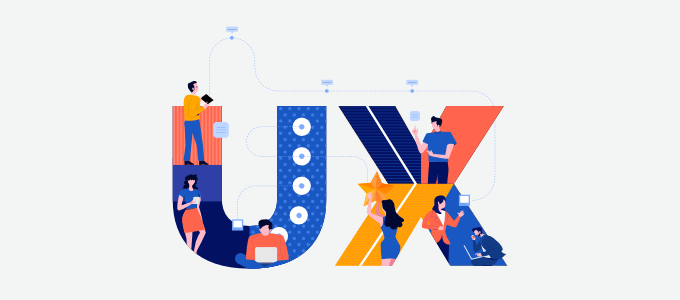 User interface (UI) and user experience (UX) are two common terms used in the web design industry. Both are important for creating a successful, user-friendly site design.
UI refers to the screens, buttons, toggles, and icons that a user interacts with when visiting a website. While UX refers to the entire interaction a user has with a website and how they feel about it overall.
As you can see above, Gen Z users prefer UX/UI design that is highly personalized. See this guide on how to show personalized content to different users in WordPress.
In addition, 31% of people think that an engaging user experience is a top priority for website designs.
There are multiple easy ways you can make your WordPress website more engaging. For example, you can add interactive content like conversational forms, infographics, or quizzes.
eCommerce Web Design Statistics 
What's surprising here is that 23% of small retail businesses don't have a website because they don't know how to create one.
Yet, 53.9% of all retail eCommerce was expected to be generated via mobile devices last year.
If your retail business doesn't have a website, you're missing out on a ton of sales.
As we mentioned earlier, creating a website is easy with WordPress and WooCommerce. Simply follow our tutorial on how to start an online store for step-by-step instructions.
In eCommerce web design, 85% of shoppers say product information and pictures are important to them when deciding which brand or retailer to buy from.
To improve your WooCommerce design and generate more sales, read this tutorial on how to customize WooCommerce product pages.
Web Design Industry Statistics
Employment of web developers and digital designers is projected to grow 13% from 2020 to 2030, much faster than the average for all occupations.
WordPress developers are in especially high demand since WordPress powers 43.2% of all websites.
If you're interested in becoming a WordPress developer, you can get started by reading our guide on how to learn WordPress for free.
Another interesting statistic is that the cost of a custom WordPress site or theme is between $3,000 and $15,000 dollars.
But, if your small business doesn't have the budget, you can easily create a custom WordPress theme with a plugin like SeedProd.
SeedProd is the best drag-and-drop website builder for WordPress. It allows even complete beginners to create custom WordPress themes and page layouts, without editing any code.
Plus, SeedProd comes with ready-made themes and templates, color schemes, font pairings, design-related blocks, and more.
To get started, follow this guide on how to easily create a custom WordPress theme.
List of Sources
Adobe, Top Design Firms, Google, Deloitte, Statista, GoodFirms, IBISWorld, U.S. Bureau of Labor Statistics, Digital.com, SWEOR, Siteefy, W3Techs, Toptal, HubSpot, Forrester, Small Biz Trends, KoMarketing, Wilderness Agency, WPEngine, IsItWP, Hootsuite, WebFX, Neil Patel
We hope these website design statistics will help you make the best design decisions, whether you're designing a brand new website or redesigning an existing one. You may also want to check out our pick of the How To Efficiently Manage Post Series in WordPress and the What's Coming in WordPress 6.1.
.