Are you looking for the best social proof plugins for your WordPress website or WooCommerce store?
Social proof helps you earn customer trust and make more sales by showcasing your interactions with previous customers.
In this article, we will take a look at the best social Proof Plugins for WordPress to help you make more sales and win customers.
What Is Social Proof and Why Does it Matter?
Social proof is the natural inclination that we have to copy other people's actions. We are more likely to try things that we see other people buying, using, or recommending.
Social proof can take several different forms. It could be a review or testimonial. It could simply be a number, such as the number of Facebook fans or email newsletter subscribers your company has.
You can also use social proof for your online store to boost the overall conversion rate. It can also be a great way to encourage donations, downloads, comments, or anything else that helps you reach your goals.
Since WordPress is the most popular website builder on the planet, there many different types of social proof tools available for you to use.
With that said, let's take a look at the best WordPress social proof plugins.
Best Social Proof Plugins for WordPress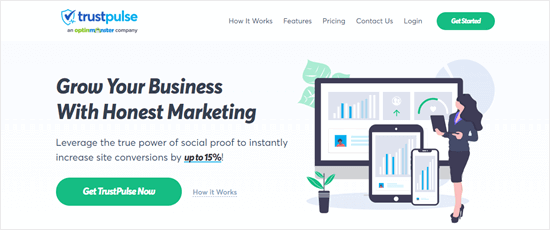 TrustPulse is the best WordPress social proof plugin on the market. It uses the FOMO effect by displaying real-time notifications of user activities on your site.
TrustPulse can show a notification bubble with recent purchases, form submissions, signs up for a free trial, and more.
You can set up TrustPulse on your site within a few minutes, and it is proven to instantly increase conversions by as much as 15%.
TrustPulse has lots of powerful features, including smart targeting. This lets you display social proof to the right people at the right time.
The TrustPulse plugin is ready to use straight out of the box.
It can automatically detect your eCommerce platform and start showing recent customer interactions/sales. Alternatively, you can also customize it to detect specific user activities and display them on your site.
The TrustPulse notification popups are unobtrusive. They will not get in the way of your content or your user's experience of your site. At the same time, they're highly effective.

It also comes with built-in analytics that let you easily see which pages are getting the best conversion rate. This can help you optimize your content and boost conversions even further.
Price:

TrustPulse is free for up to 500 sessions per month. After that, pricing starts from $4/month (paid upfront annually).
Smash Balloon's plugins let you add social media feeds to your WordPress site. They can be used to show testimonials and other social proof.
Smash Balloon has plugins for Facebook, Instagram, Twitter, and YouTube. These let you easily gather social media testimonials or other powerful user-generated content.
For instance, you could use Smash Balloon's Custom Twitter Feeds Pro plugin to add Twitter testimonials to your site. This lets you show what real people are saying about your products or services.
Bringing your social feed onto your site is more powerful than simply copying and pasting testimonials. It's immediately clear to your site's visitors that the tweets are real testimonials with real people behind them.
You can use their Instagram Feeds Pro plugin to automatically display new user photos of your product, or the YouTube Feeds Pro plugin to automatically display new user video reviews of your brand.
Smash Balloon makes it easy to choose exactly what elements to include in your social media feeds. For example, you could include the number of likes and comments on your Facebook posts. This can be a useful form of social proof as it shows that your brand has lots of followers and fans.
Price:

Smash Balloon offers an 'All Access Bundle' for all their plugins. This costs $299/per year. Alternatively, you can buy an individual plugin for just $49/per year.
There's also a lite-free version of all Smash Balloon feed plugins.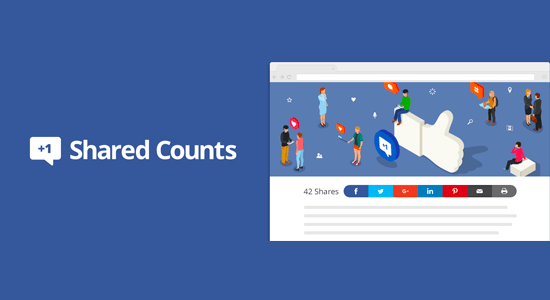 Shared Counts is a straightforward WordPress plugin that lets you add social media share buttons to your site.
Many of these buttons can display your post or page's share count on the relevant social networks. If your blog content gets shared a lot, this is an easy form of social proof that shows just how popular your website is.
Shared Counts gives your readers an easy way to share your content on their favorite social networks. All they need to do is click a button.
All the most popular social media services are covered, including Facebook, Pinterest, Twitter, and LinkedIn. The plugin also lets you add a button that people can use to email your content to someone else.
The Shared Counts plugin uses the SharedCount.com API to provide the numbers for your shared counts. We have a step-by-step guide to Shared Counts that takes you through signing up for the SharedCount.com API.
Alternatively, you can use the shared counts from each of the social media apps, but this is more likely to slow down your site.
Price:

Shared Counts is completely free.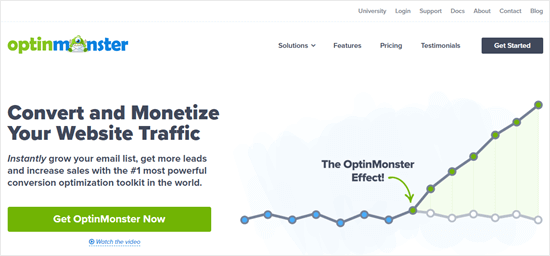 OptinMonster is a fantastic lead-generation tool that lets you easily convert visitors into email subscribers through popups and other eye-catching signup forms.
You can use it for social proof as well, by creating a popup that highlights key figures. For instance, you might create a popup that lets readers know how many people are on your email list.
OptinMonster lets you create a wide range of different popups and opt-in forms. These include regular-sized popups, floating bars, fullscreen popups, inline campaigns, and slide-ins.
Best of all, OptinMonster comes with lots of professionally designed and fully customizable templates. This lets you create great-looking popups in just a few minutes.
OptinMonster offers extra ways to boost your conversions, too. It's easy to use countdown timers to create a sense of urgency and use the power of FOMO (fear of missing out). You can also boost engagement with special lead generation campaigns, such as yes/no options and 'spin the wheel' options.
Price:

The 'Pro' plan for OptinMonster costs $29/month (billed annually). This has lots of useful features like countdown timers and Exit Intent® technology.

The cheapest plan available is $9/month, but this has limited features.
5. Thrive Ovation
Thrive Ovation is a popular testimonial plugin for WordPress. It's an effective way to add social proof by showing what people have said about your products or services.
With it, you can convert comments into testimonials with a single click. Thrive Ovation captures the name and photo of the person who left the comment.
It can also be integrated with Facebook and Twitter. This lets you take testimonials directly from those networks and add them to your own site.
Thrive Ovation even lets you create a landing page where you can collect testimonials through a simple online form. It can also send out automated emails to your customers to encourage them to leave a testimonial for you.
Price:

Thrive Ovation costs $39, which includes unlimited updates. You will need to pay a small extra fee after a year to continue receiving support.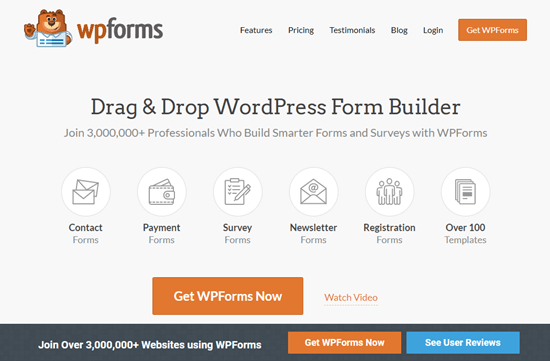 WPForms is another easy way to collect testimonials and reviews. It's the best forms plugin for WordPress and is designed to be really easy to use, even if you're a complete beginner.
The WPForms template pack includes a testimonials form template. This lets you quickly set up a form to gather reviews and testimonials.
You can customize your testimonials form in any way you want. For instance, you could add an upload field so that customers can share a photo. You could even add a rating field so customers can give your product or service a score.
Of course, there are lots of other ways to use WPForms too. You might decide to run a survey or poll. This can provide social proof through the results, or even through the number of participants.
Price:

The lite version of WPForms is free but has limited functionality. WPForms premium version prices start from $39/year.
7. notification X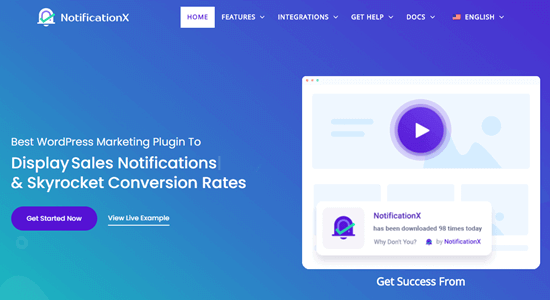 NotificationX is a notifications plugin that you can use as an alternative to TrustPulse. You can use it to show download counts, comments, sales, reviews, and more.
You can use NotificationX on specific pages or across your whole site. Plus, there's an analytics tool that lets you see which of your notification popups are the most effective.
With NotificationX, your site can show a small popup notification to all visitors each time someone comments. If you're using MailChimp, you can show a notification whenever someone subscribes to your email list.
NotificationX can show reviews from WooCommerce or even from WordPress.org if you sell a theme or plugin. It also has the option to create timer countdown notification bars.
Price

There's a free version of NotificationX. This offers a great range of features if you're just getting started. The pro version costs from $39/year.
8. WPfomify
WPfomify is another good notifications plugin. It shows recent sales and signups, and much more. If you have lots of traffic, you could use the Visitor Count notification to show how many people are visiting a page currently.
You can customize how WPfomify looks to make it a great match for your site and brand. It's designed to be completely responsive and work on all devices.
WPfomify can also be used to show reviews. Like NotificationX, it lets you create timer countdown bars to use the power of FOMO.
WPfomify integrates with a range of other plugins and services. These include Give, a popular donations plugin, ConvertKit, Zapier, and many more.
We hope this article helped you find the best social proof plugins for WordPress and WooCommerce. You might also want to see our guide on How to Use FOMO on Your WordPress Site to Increase Conversions
.